Wij zijn P4L, de integratie specialist voor de logistieke sector. Wij hebben jarenlange ervaring op het snijvlak van ICT en logistiek. Wij combineren onze inhoudelijke kennis van logistieke operaties, applicaties, ICT-inrichting en informatiestromen met onze gedrevenheid, passie voor het vak en de kennis om van elke uitdaging een succes te maken.
P4L is in 2015 opgericht om logistiek dienstverleners te ondersteunen bij optimalisatie van hun informatiestromen.
Vanaf 2018 is P4L begonnen met P4Link, het web platform waarop alle informatie met betrekking tot orderverwerking en de daarbij behorende integraties als dienst geleverd worden. P4L biedt hiermee een unieke totaaloplossing waarbij klanten een abonnement nemen op de diverse diensten van P4Link zonder daarvoor hardware of software aan te hoeven schaffen of specialisten in te moeten huren. Klanten worden op deze manier ontzorgd, maar behouden wel de controle over hun informatie.
Klanten van P4L zijn zeer trouw, dit is niet alleen vanwege de kwaliteit van onze oplossing maar ook door een hoge klanttevredenheid.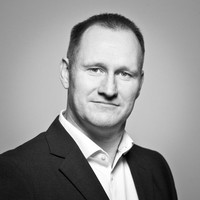 Ik heb meer dan 20 jaar ervaring met ICT in de logistieke sector als consultant, projectmanager en ICT-manager. Al die jaren heb ik me het meest bezig gehouden om informatie beter te delen en sneller beschikbaar te maken.
Ik heb al mijn logistieke kennis en ervaring in P4Link gestopt om zo een complete oplossing aan te kunnen bieden aan logistiek dienstverleners met betrekking tot alle order gerelateerde informatie.
Mijn passie is P4Link, want wat is mooier dan te stoppen met handmatige verwerking van informatie en de stap te zetten naar maximale integratie van eigen software met die van uw partners.